Hans' SST-45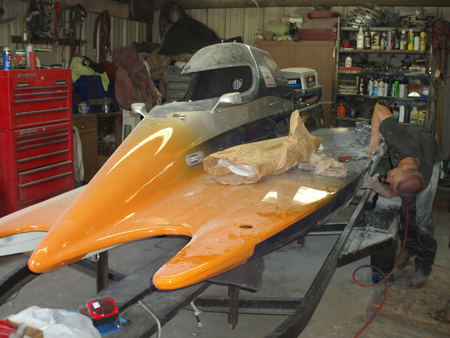 Hans had wanted to race for several years now. He pitted for Megan in several races. More importantly, he learned to drive the 14' Allison/ Johnson 75. A tunnel is not easy to drive under racing conditions but it's much easier to go from a v-bottom to a tunnel than the reverse. So learning to drive the May Fly III helped him. We bought a 1998 Grand Prix with trailer and ca. 1990 Evinrude SST 45 motor (60 hp) cheaply from Darrell. Hans had to repair several damaged spots on the hull, Darrell guided him. The work was done at Darrell's shop using his tools and some supplies. E.g., a new lexan windshield had to be cut, we used the old one as template. Trim and powerhead needed repairs. Darrell and Hans redid some wiring and switched. Joe straightened the bottom and reworked a new Dewald prop.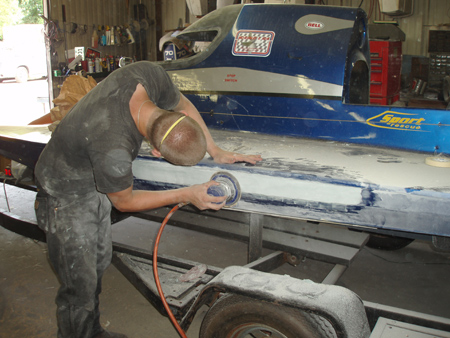 Hans got two hours practice time at Orange before the race, then qualified 5th running wide. As rookie he was required to start last and run the outside lane during the heats. He ran two 30 lap heats on Sat. and drove so well that the race organizers removed his rookie status. We (Darrell, Crew Chief John Calley, and Joe) still kept him starting last and running the outside on sun. in the 3rd 15 lap qualifier and 30 lap final heats. He finished 7th in the final after losing 2-3 laps when the throttle spring came off and had to be replaced. He passed the 3rd place boat before the end, and was near to and pulling on the 2nd place boat when the checkered flag dropped. His crew only wanted him to bring himself and the boat back dry and safe, he drove beyond our wildest expectations (see also the race report from Pit Mama; click here).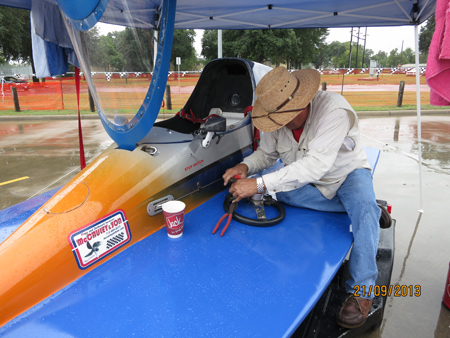 However, the past is past, every race is a new test for driver and equipment.