Racing 1958 - 1985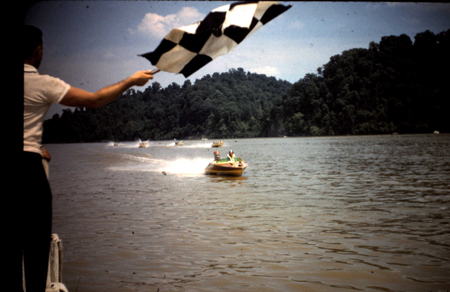 Joe's dad, also named Joe McCauley, and Joe began racing in 1958 and continued through 1960. Joe Sr. drove a Mark 78 on a 14' Aristo Craft Torpedo. In 1959 he bought a specially built Torpedo, one slightly longer than 14', from Claude Turner who built the boats in Atlanta. The deal was arranged with Claude at the 1958 Chicago Boat Show. Joe inherited the older Torpedo from his father and ran it with a Mark 58A. One NOA record was set with that Torpedo. This was the beginning of OPC racing. It began in Knoxville, Tenn. under Claude Fox and the National Championships were held on Old Hickory Lake near Nashville. Unfortunately, NOA-OPC was more an organization of men than rules. Joe Sr.'s special Torpedo was disqualified after the Mercury/AristoCraft took the record away from a Scott/Crestliner. At the same time, home made boats were permitted to set records. See www.aristocraftboats.com
In 1957-59 McCulloch Corp. used NOA to showcase the speed of their motors, Kiekhaefer was asleep at the wheel while Scott held nearly every NOA record. One of the records was set by a Scott 40 on a home made boat called an Allison. At the fall, 1959, time trials at Three Rivers the water was filled with the new 1960 Johnson 75 on Allisons, and they set new and impressive records. The unlimited record was increased from nearly 52 mph (Scott 60 on a Rose boat) to nearly 56 mph. As a 17 yr. old Mercury guy Joe was quite ill watching it all.
In 1960 Joe Sr. bought two wooden Allisons, 13' and 14' in length. The boats were fast but wouldn't turn in closed course racing. Since the 89.5 c.i. V-4 Johnson 75 had arrived on the scene, it not only had set the Unlimited Class record but was winning closed course races as well. The Merc 800 had a 1:2 geared club-footed gearcase that ate up hp with underwater drag. The Johnson 75, in contrast, had a very small full-shift racing gearcase and was geared 20:23!
Finally responding to prodding by Joe Sr. and perhaps others, the Kiekhaefer Corp. woke up and sent father and son what became known as the 'Sportsmaster' gearcase in Aug. 1960. It was small, geared high at 14:21, and was smaller in diameter and more streamlined than the gearcase on the shortshaft on the EP/SE Class 1975-89 Evinrude 75. In fact, that gearcase looks very much like a Sportsmaster. Joe bolted the Sportsmaster onto the Merc 800 and rigged it on his13' Allison with steering in both the back and front seats.
Along with their pit crew Dick Hite they drove to 33 Bridge on Norris Lake where Joe's father tested the boat driving from the front seat. Joe watched it run and knew it was blazing. His father came in and exclaimed 'It's a new ball game, I've never ridden that fast before.' Joe said' let me drive it now', because he was to run it through the traps in just a few days. Joe Sr. said 'No, it's too dangerous'.
The first time Joe drove that boat was through the traps at the NOA time trials, from the back seat with the seat removed, on his knees with his butt against the transom. It was 'too dangerous to test', to give him a feel for it, but not to run through the traps! They were a bit dismayed because Paul Allison, who had been a big Johnson fan, was there with a nearly identical rig. It was a ride Joe willl never forget. He had to lean forward to get the prop to catch, then while gaining speed turn north from the Tennessee River into the Holston (straight ahead the Tennessee is called the French Broad, which gives Three Rivers its name), making the turn with the boat running flat, sliding, and as fast as safety permitted. Then wide open into the traps.
The Allison had two lift strakes. At about 55 mph the boat 'lifted' and picked up another 5 mph, shimmying down the stretch as flat as a pancake on those strakes. Joe broke 60 mph, so did his dad in another run, but Paul broke 61 mph. He trimmed out and Joe's dad didn't believe in trimming the motor out. With Mercurys on Allisons Paul set one record that day Joe Sr. set one, and Joe set three. One of them won Joe the Wynn Oil Pin and a hundred bucks. Probably, Joe Sr. was much more happy and proud of Joe than Joe himself was. But it was a disappointment that Paul beat them for the unlimited record. After breaking the unlimited record by over 5 mph Paul Allison, formerly a Scott and then Johnson fan, became a Mercury man and never changed.
On that Oct. day in 1960 Joe Sr., Paul Allison and Joe were the first drivers in history to break 60 mph in OPC. And then in the Jan. 1961 meeting the other dirvers voted to throw out all records held by 'wooden boats'. Well, they left several set by Scotts on wooden boats but that inconsistency wasn't anything new. The next year was the beginning of Allison-Craft as a fiberglass racing boat, but the McCauleys were out of it.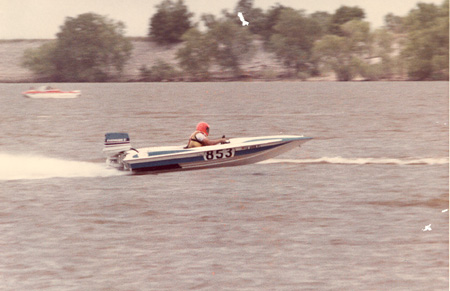 Joe raced Allisons again 1977-85, this time powered by Evinrude, and won four national championships (one with George Laycock) driving. His team mate and boyhood outboarding friend Jay Cox won a fifth one with a Johnson 75 and 13' Allison that Joe had set up and propped after building the motor. Joe was US-1 twice and US-2 twice, and set three EP Class speed records, one of which was never broken. He was the first (and only) driver to clock 70 mph with a stock Evinrude 75 on a V-bottom boat. And that record still holds today.
Hans has a rig like Joe's 1977 Allison/Evinrude, the May Fly III/Johnson Stinger shown under 'Restored'. That rig runs faster than the 1977 one. We build better props today than back then.
Joe is still close to Paul, Lucille, Darris and Nancy Allison. He's known Paul since he picked up the two wooden boats from Paul and Lucille's house in spring, 1960. Darris still makes the world's fastest V-bottoms, and Paul is still very active. See www.allisonboats.com.