Completed Restorations
1949 Johnson 10hp QD-10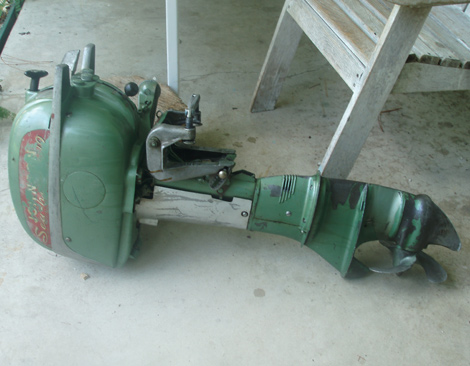 The same model was first owned by my dad on a 14' Thompson.
He ran it for a year then bought a 1954 Johnson 25 and built a 14' Chris-Craft kit boat. In 1956 the lumbering Johnson was replaced by a Mark 55, and a year late the Chris-Craft was replaced by a 12' Yellow Jacket driven from the back seat.
This classic QD-10 pumps water like a Scott-Atwater, that is, like a fire hose. It has new coils, points, J6C plugs & plug wires, the condensers tested good and were not replaced. The carburetor was also cleaned.
Motor starts easily and runs well. It has a primer instead of choke, and is the first full gear shift model produced by OMC. Scott-Atwater produced three full gearshift models the same year. Kiekhaefer hesitated until 1952 because he didn't want to copy OMC.