Who We Are
Joe was a factory trained Mercury mechanic at age 14. He became an OMC mechanic while racing Evinrude motors 1977-85. He raced Mercury outboards 1958-60 on Aristo-Craft and Allison boats, setting four NOA speed records.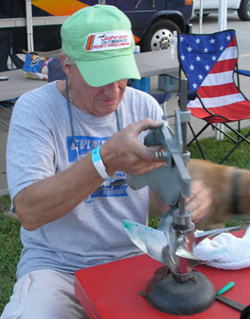 From 1977-85 he raced Evinrude motors on Allison and one Laser boat in APBA-OPC in EP, JP, and Mod VP classes. In EP class he set three speed records (one was never broken), was US-1 twice, and won four national championships. During that time he had the backing of Evinrude Service in Milwaukee, drove Mod-VP three times at the Havasu Classic 1978-81, in 1979 with a special factory-delivered Evinrude V-6. Joe did his own motor building, prop modification and boat bottom work.
From 1987-2008 he gave up outboards for alpine hiking but now does both.
Working with Motors
All the Time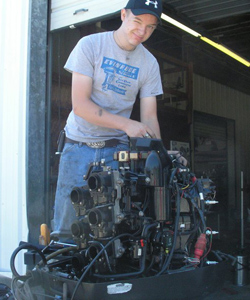 Hans is right now studying mechanical engineering and is a team member of the Formula Student Team TUW racing, the racing team of the Vienna University of Technology for manufacturing (including lathe, milling and laminating carbon fiber) and designing parts. Being in charge of the workshop he works happily again with lathe, mill and a CNC EMKO, mounting parts and developping fast vehicles. During vaccations he helps his father, working on outboard motors.
Two years ago he worked as mechanic at Red Wing Boat Co., on big motors, the oldest Evinrude dealer in Houston.
He loves the 1974 14' Allison boat that he restored with Darrell Beaulier and his dad. It was one of the boats that his dad won races with in 1982.
Hans is also a machinist and restored five 1977-1983 Evinrude and Johnson motors and a 1959 McCulloch Scott with his dad since 2008. The latest is a 1979 Johnson Stinger 75 hp shortshaft, the famous EP/SE racing model.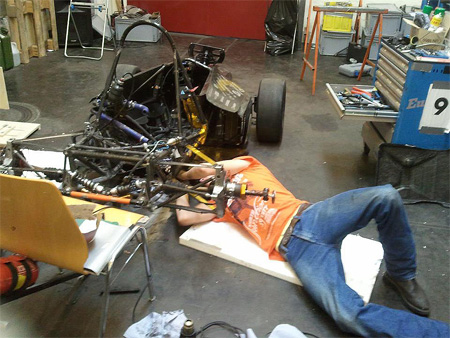 For more information
on the Formula Student Racing team in Vienna visit http://racing.tuwien.ac.at
The tools the team uses are sponsored by the Plansee Group, one of the world's leading manufacturer of refractory and powder metals. The company has its headquarters in the little town of Reutte, Austria where Hans went to school. www.plansee.com