Restorations in Progress
Here are some interesting motors. The motor on the left beneath the photo of the two of us is a 1975 Evinrude 75. We bought the powerhead and upper cowl at a storage lot auction, and picked up the exhaust housing, gearcase and lower cowl at the 2011 Rothermel AOMC swap meet. The motor will be nearly identical to the 1979 Stinger with 1975 powerhead, excepting pistons and gearcase skeg. Decals and colors will be 1975 Evinrude red/blue/white.
The 1947 Johnson 16 hp SD model has dual rotary valves, no gearshift and no waterpump. It looks superficially like the 1949 10 hp QD model but is an entirely different motor. The QD was the first 'big' Johnson with leaf plates instead of rotary valves, and gearshift.
The 1947 5 hp TD model was produced from 1941-1953 and is not a modern motor. It has a '3 port system plus a rotary valve for low speed operation. This eternally greasy motor was the favorite of fishermen for about two decades. It's always oily because with the 3 port system (no reeds) fuel/oil is blown back out the carburetor on the compression stroke.
The 5 hp Mercury of the same era was a far more advanced and cleaner motor. The Champion 7.8 hp has dual rotary valves and provided enough power to pull a small kid on waterskis.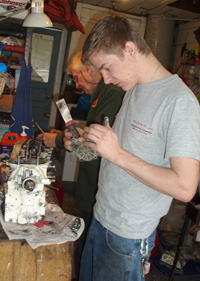 The 20 hp Mercury Mark 25 ended the line that began with the 10 hp Lightning after WWII, both motors had blocks with the same powerhead-exhaust housing bolt pattern, and the 30 hp Mark 30 again had the same bolt pattern.
The 27 c.i. 1957 Scott 22 was replaced a year later with a 30 c.i. Scott 25 but many parts are interchangeable. Scott had V-block reeds in 1957 and earlier, now all 2-cycle outboards have V-block reeds. The 1960 Scott 40 is a classic. The 1957-58 40 Scott dominated E Class in NOA racing until 1958 when Mercury produced the 45 hp Mark 58 with only about one c.i. more in piston displacement. That ended the Scott 40 in racing. The Scott has a good intake system and will easily outrun the JohnRude 35-50 hp motors of the late 1950s, but unlike a Mercury the Scott won't turn much over 5500 RPM. Maybe they were the prettiest motors of the era and ran reasonably fast.